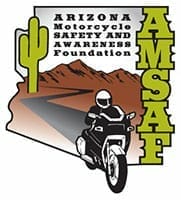 AMSAF Executive Director
Mick Degn
[email protected]
2019 is almost over and we're off to another exciting new year.  At AMSAF we want to thank you for all your support. We continue to grow and help the Community more each year. In addition we've found the Community helping us more to reduce crashes and fatalities in Arizona and together we will make a difference.
We've been able to help get over 3000 individuals in the State into motorcycle training at a reduced cost and saving them and their family some dollars.  In addition we started a Pilot Helmet Assistance program to help individuals get into a helmet at a reduced cost.  We look at these programs as Educational and in the long run we believe we're helping to save lives.
As we go into 2020 we have our annual fundraising Event called "Share the Road & Riding for the Long Haul". Our goal for this event is to raise money to help reduce crashes and fatalities and increase our Educational programs. Share the Road, Distracted Driving, DUI and look out for each other will be our main themes for this event.  www.amsaf.org/RFTLH
We want to thank Governor Ducey and Governor's Office of Highway Safety along with Director Alberto Gutier for their support and help to reduce crashes and fatalities in Arizona. It's through their help that we're able to offer Motorcycle Training Scholarships and Helmet Assistance Program.
We also want to thank our many Sponsors, donors and partners who go beyond the call of duty to help us. It is very much appreciated and we're making a difference together.
We want to wish everyone a safe and Happy Holiday Season and THANK YOU again for all your support.