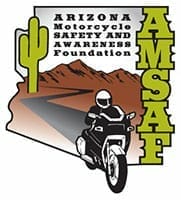 AMSAF Continues to Grow and Help the Community
Since our beginning we have continued to grow by offering Programs to the public on Education and opportunities to help make our roads safer and at the same time save you money.
To that we want to THANK YOU, the Arizona Community for your support and investment in yourself by using our programs.
We offer three (3) programs:
• Motorcycle training Scholarship's- the ability to attend a motorcycle training school and get your motorcycle endorsement or improve on your riding skills at a reduced cost.
www.amsaf.org/scholarships
• Helmet Financial Assistance- the ability to purchase a DOT full face or modular helmet at one of our authorized Helmet dealers at a reduced cost. www.amsaf.org/helmets
• Accident Scene Management- This course helps you understand what to do or what not to do if your involved in a crash or come upon one at a reduced cost. www.amsaf.org/asm
You will save around 50% or more on each of these programs.
In today's market and tight budgets, this is a great investment in you, your family, or a friend. Please take advantage of these programs if they apply to you or share this with others.
As mentioned at the beginning we have continued to grow in helping the community and we have treated our nonprofit organization as a business.
In doing that we have been able to attract individuals with business background and individuals who have no hidden agenda other than helping you the community to be safer.
We have been so fortunate in the team we have that they really care about you and want to help Arizona be safer with less crashes and fatalities.
Currently, we are looking for additional Board members with a business background and want to be part of AMSAF in helping to reduce crashes and fatalities.
Look at our website to see all the area's we participate in and what we do. www.amsaf.org .
Here is an opportunity to be part of a great Team and feel a sense of accomplishment and pride in what you are doing.
If you think you might be interested and would like to talk to us about the opportunity as Volunteer Board Member, send us a message at [email protected] with your contact information and we'll get back with you.
Each year we put on our annual Fundraising event "Share the Road & Riding for the Long Haul" This coming year's event will be May 6 th ,2023 and our theme this year will be Mardi Gras. www.amsaf.org/RFTLH
Thank you again for your support of AMSAF and what we do to help the Community.
We hope everyone has a wonderful holiday season.
AMSAF Executive Director
Mick Degn
[email protected]
[email protected]/(888) 951-3732