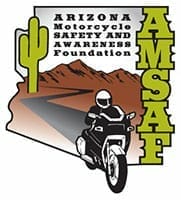 Submitted By Mick Degn
AMSAF Continues to grow and Help the Community
May was celebrated as Motorcycle Safety and Awareness Month.
When we started AMSAF back in 2011 we wanted to make sure we were promoting Motorcycle Safety and Awareness all the time and since that time we have done that.
We do it in a number of ways each month through the following:
– Tuesday Safety tips on https://www.facebook.com/AMSAF.ORG/ we have some great safety tips that get a lot of shares and likes.
– Our Monthly newsletter, "The AMSAF Rider" with a lot of good information on safety and awareness. https://www.amsaf.org/subscribe-to-the-newsletter/
– Each month we give out Motorcycle Financial Assistance Scholarships to help individuals and families get into motorcycle training. https://www.amsaf.org/scholarships/
– Each year we put on an event that is geared to Safety and Awareness," Riding for the Long Haul", https://www.amsaf.org/riding-for-the-long-haul/
– We put up billboards to help promote " Share the Road"
– In the next couple of months, we will be announcing another program to help the motorcycle community in relation to safety. Stay tuned.
Our goal is to help reduce crashes and fatalities here in Arizona and it's a campaign that can't be just for the month.
We all need to be aware and promote safety and awareness all the time, every day, every month and all year.
These past months we have Dr. Sucher from Arizona Trauma Association, Dr. Hu and Wendy Otten from Dignity Health-Chandler Regional Medical talking about the importance of Safety.
These folks see it first hand when someone ends up in the Hospital from a crash. Take a look at their message that is on our Facebook page.
We also want to thank our many Sponsors who help us every year so that we can do the things I listed above.
Check out these Sponsors at: https://www.amsaf.org/sponsors-contributors/
We couldn't do what we do with the motorcycle training Scholarships if it wasn't for the help from Governor Ducey and the Governor's Office of Highway Safety.
I also want to thank the AMSAF Board members who spend countless hours helping AMSAF and the community to get the word out and help make a difference.
They are awesome.
Mick Degn
Executive Director
Arizona Motorcycle Safety and Awareness Foundation (AMSAF)
www.amsaf.org
https://www.facebook.com/AMSAF.ORG/
"We help save Lives"