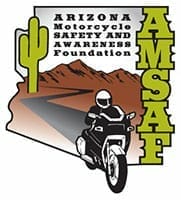 AMSAF Executive Director
Mick Degn
[email protected]

First of all, THANK YOU for your support for AMSAF and everything we do to help the community.  It's hard to believe that we're almost into Thanksgiving and Christmas and some beautiful riding weather. 
Now for some awesome news, I would like to share some exciting and proud news on AMSAF. Since the beginning of AMSAF our goal has been to promote motorcycle safety and awareness and help reduce crashes and fatalities.  AMSAF recently attended the MSF International Rider Education Training workshop in Columbus, Ohio.
This was attended by 45 States and some overseas countries. At this convention, AMSAF received an award for "Extraordinary Contributions to Motorcyclist Safety".  In addition, they commented that AMSAF has set a new standard for motorcycle safety and awareness program across the country. 
I have to tell you that was an unbelievable and proud honor to receive this recognition from Motorcycle Safety Foundation (MSF). As a nonprofit organization we've worked so hard to help the community and be involved and this award was like the icing on the cake. 
I heard many positive comments from different States on what we were doing to help our State and the Motorcycle riders. We want to THANK MSF for this wonderful recognition. 
Mission & Vision Statement. The MSF is an internationally recognized not-for-profit foundation, supported by motorcycle manufacturers, that provides leadership to the motorcycle safety community through its expertise, tools, and partnerships.
I want to thank our Board, Sponsors, Donors and Partners who have been there for us and helped AMSAF grow and help the community to reduce crashes and fatalities. We could not do what we do if it wasn't for these organizations and individuals. In addition, I want to thank Governor Ducey, Governor's Office of Highway Safety and Director Alberto Gutier for their continued support of AMSAF.
AMSAF Mission Statement – To promote motorcycle safety and public awareness and to help reduce crashes, injuries, and fatalities in Arizona.
Here are just a few ways AMSAF helps the community through your donations and help: